Craigslist, one of the most popular online classified advertising platforms, serves as a bustling marketplace for buyers, sellers, job seekers, and service providers alike. With its localized versions for various cities across the United States, Craigslist has become a go-to platform for individuals seeking to connect with their local communities. In this article, we'll explore the most active Craigslist cities, categories, and times of day, giving you insights into where and when the action happens.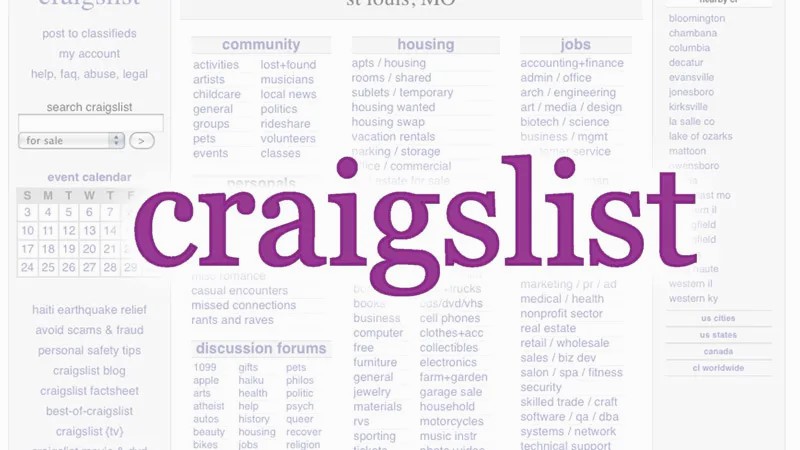 The Most Active Craigslist Cities
Craigslist operates in numerous cities across the United States, but some cities stand out for their high levels of activity and engagement. Here are some of the most active Craigslist cities:
New York City, NY: The city that never sleeps also boasts one of the most vibrant Craigslist communities. New Yorkers use Craigslist for everything from finding apartments to buying and selling secondhand goods. The bustling nature of New York City ensures a continuous stream of listings in various categories, making it a go-to destination for locals seeking a wide range of goods and services. Whether it's job opportunities, event announcements, or unique vintage finds, Craigslist in New York City has it all.
Los Angeles, CA: As the entertainment capital of the world, Los Angeles sees a significant amount of Craigslist activity in categories like gigs, creative services, and housing. With aspiring actors, musicians, and artists flocking to the city in pursuit of their dreams, Craigslist becomes a haven for individuals seeking talent, services, and opportunities in the entertainment industry. Additionally, the diverse population of Los Angeles ensures a variety of listings in the housing, jobs, and community categories, catering to the unique needs of its residents.
Chicago, IL: The Windy City is bustling with Craigslist users seeking jobs, housing, and local services. As a major hub for businesses and industries, Chicago's Craigslist sees a constant influx of job postings and employment opportunities across various sectors. The city's vibrant neighborhoods also contribute to a thriving housing market on Craigslist, attracting both renters and buyers. Additionally, the community category in Chicago fosters connections and promotes local events, making it a valuable resource for staying engaged with the city's happenings.
San Francisco, CA: Given that Craigslist was founded in San Francisco, it's no surprise that the city remains a hub for Craigslist activity across all categories. San Francisco's tech-savvy population utilizes Craigslist for a variety of purposes, from finding tech-related jobs to discovering unique tech gadgets. The city's progressive culture and artistic community contribute to a dynamic range of listings in creative services, events, and artistic ventures.
Seattle, WA: Known for its tech scene and outdoor enthusiasts, Seattle's Craigslist sees high demand in various categories, particularly for tech-related jobs. The city's booming tech industry attracts professionals from all over the country, resulting in a competitive job market with a constant flow of listings on Craigslist. Moreover, Seattle's proximity to nature encourages an active outdoor lifestyle, leading to a strong presence of listings for outdoor gear, sports equipment, and recreational activities.
Houston, TX: With a thriving job market and diverse population, Houston's Craigslist remains bustling with job postings and various services. As one of the largest cities in the United States, Houston's Craigslist is a hub for job seekers and employers alike. The city's rich cultural scene and culinary delights are also well-represented on Craigslist, with numerous listings for events, community gatherings, and local services.
Phoenix, AZ: As a rapidly growing city, Phoenix's Craigslist is a hotspot for real estate listings, services, and community events. The city's warm climate and attractive lifestyle draw many individuals seeking new opportunities and experiences. Whether it's real estate, automotive, or local events, Phoenix's Craigslist offers a platform for locals to connect and engage.
Philadelphia, PA: The City of Brotherly Love's Craigslist is popular for its vibrant arts and culture scene, job opportunities, and housing listings. As a city with a rich history and a thriving arts community, Philadelphia's Craigslist attracts individuals seeking creative services, artistic events, and unique experiences. The city's diverse neighborhoods also contribute to a dynamic housing market on Craigslist, with listings ranging from historic townhouses to modern apartments.
The Most Active Craigslist Categories
Craigslist features a wide range of categories to accommodate diverse user needs. Here are some of the most active Craigslist categories:
Jobs: Job seekers and employers alike turn to Craigslist for job postings across various industries and job types. Whether it's a full-time position, part-time gig, freelance work, or internships, Craigslist offers a diverse range of employment opportunities to cater to different skill sets and career goals. Job seekers can easily navigate the job listings to find positions that align with their qualifications and interests, while employers can reach a wide pool of potential candidates.
Housing: The housing category is one of the most active, with numerous listings for apartments, houses, and rooms for rent. Whether individuals are searching for their dream home, a temporary residence, or a roommate to share expenses, Craigslist's housing listings provide a convenient platform to connect with landlords and property owners. The housing section features a variety of property types, locations, and price ranges, making it a go-to resource for anyone in need of a place to live.
For Sale: Whether it's furniture, electronics, or vehicles, the for-sale category is a bustling marketplace for buying and selling secondhand goods. Craigslist's for-sale section acts as an online yard sale, allowing individuals to declutter their homes and find new owners for their pre-loved items. Buyers, on the other hand, can score great deals on various goods and uncover hidden treasures that suit their needs and preferences.
Services: From household services to creative work, the services category sees significant activity as individuals offer their skills and expertise. Whether it's home improvement services, graphic design, photography, or tutoring, users can find a wide array of services in their local area. This section benefits both service providers looking to expand their client base and customers seeking reliable and affordable services.
Community: The community category is where users can find local events, activities, and groups to get involved with. From charity fundraisers and volunteer opportunities to community workshops and social gatherings, this section fosters a sense of connection and engagement among Craigslist users. Whether newcomers to a city want to explore their surroundings or established residents want to deepen their community ties, the community category offers a plethora of opportunities to connect with others.
Events: Users can post and discover local events, concerts, and gatherings in the events category. This section serves as a digital bulletin board for event organizers to promote their happenings and for community members to discover exciting activities in their area. Whether it's a music festival, art exhibition, or charity event, Craigslist's events category helps spread the word and encourages attendance.
Discussions: The discussions category allows users to engage in community forums and share information and opinions. This section encourages open dialogue on a wide range of topics, from local news and politics to hobbies and interests. Craigslist's discussion forums provide a space for individuals to seek advice, express their views, and engage in meaningful conversations with like-minded people.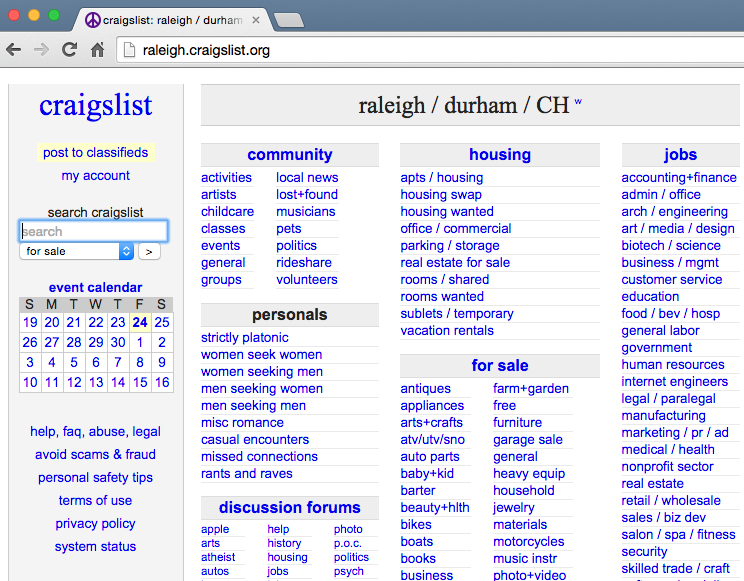 The Most Active Craigslist Times of Day
The activity on Craigslist fluctuates throughout the day. Here are the most active times:
Morning: Early morning is a popular time for job seekers to browse new listings and respond to job postings. Many individuals prefer to start their day by checking Craigslist for potential job opportunities before other activities fill their schedules. Job postings that were listed overnight or early in the morning tend to attract a higher number of views and responses during this time. Employers often post job openings in the morning to ensure their listings receive maximum visibility throughout the day, increasing the chances of finding the right candidate quickly.
Afternoon: Afternoons see a surge in housing listings and for-sale items as people use their free time to search for new opportunities. During lunch breaks and leisure hours, individuals often take advantage of Craigslist's user-friendly interface to explore housing options, from rental apartments to houses for sale. The afternoon is also a popular time for potential buyers to browse for-sale items, including furniture, electronics, and vehicles, as they contemplate their purchases and make informed decisions.
Evening: Evening hours witness increased activity in various categories, including services and community events. As the day winds down, people have more time to browse local services, such as repair and cleaning services, for projects they may have put off during the day. Additionally, the evening is a popular time for individuals to check out community events and social gatherings happening in their area. Craigslist's events and community sections receive a boost in traffic as people plan their leisure time for the upcoming days or weekends.
Night: Late-night browsing is common among users seeking last-minute deals and browsing discussion forums. Some users prefer to unwind by exploring various Craigslist categories, including the for-sale section, where they may come across late-night deals and discounts. The discussions section also experiences activity during this time, with individuals engaging in casual conversations or seeking advice from the community. Nighttime browsing on Craigslist provides a convenient platform for users who have a busy schedule during the day and want to stay connected and informed in the comfort of their homes.
How to Find the Most Active Craigslist Listings
To find the most active Craigslist listings, regularly check the site during peak hours, focus on the most active cities and categories, and set up alerts for specific searches. Staying engaged and proactive will help you stay ahead in this bustling online marketplace. Here's some step you can follow:
Go to Craigslist Website Open your web browser and navigate to the Craigslist website for your specific location. You can visit Geo Craigslist to search your location based on geography of U.S.
Choose Your Category Craigslist has various categories for different types of listings. Choose the category that interests you the most, such as "For Sale," "Housing," or "Jobs."
Enter Keywords in the Search Bar Use the search bar at the top of the page to enter specific keywords related to the item or service you are looking for. Be as specific as possible to get more relevant results.
Apply Filters Once you get your initial search results, you can apply filters to narrow down the listings further. These filters may include price range, location, posting date, and more.
Sort by Date To see the most recent and active listings, sort the search results by date. Choose the option to display the newest listings first.
Save Your Searches If you frequently search for particular items or services, consider saving your searches. This way, you can quickly access them in the future without having to enter the keywords again.
Set Up Email Notifications To stay updated on new listings that match your search criteria, set up email notifications. Click on the "Save Search" button, and Craigslist will send you email alerts when new relevant listings are posted.
Check Craigslist Regularly The most active listings tend to get claimed quickly, so make a habit of checking Craigslist regularly for new postings. Checking at different times of the day may also reveal different listings and opportunities.
Engage with the Community In addition to using the search bar, don't forget to explore the "Community" section. Here, you can find local events, activities, and groups that may interest you.
Use Advanced Search Techniques Experiment with advanced search techniques, such as using quotation marks to search for exact phrases or using the OR operator to search for multiple keywords simultaneously.
| | | |
| --- | --- | --- |
| Most Active Cities | Most Active Categories | Most Active Times of Day |
| New York City, NY | Jobs | Early morning (7 AM – 10 AM) |
| Los Angeles, CA | Housing | Late afternoon (3 PM – 6 PM) |
| Chicago, IL | For Sale | Evening (6 PM – 9 PM) |
| San Francisco, CA | Services | Late night (9 PM – 12 AM) |
| Seattle, WA | Community | Early morning (7 AM – 10 AM) |
| Houston, TX | Personals | Late afternoon (3 PM – 6 PM) |
| Phoenix, AZ | Community | Evening (6 PM – 9 PM) |
| Philadelphia, PA | Housing | Late night (9 PM – 12 AM) |
Table: Most Active Craigslist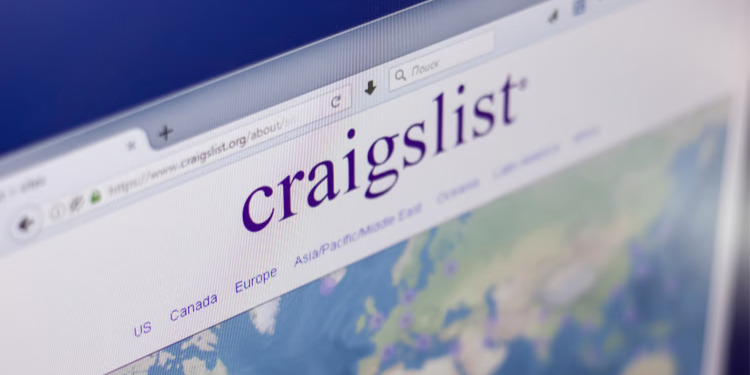 Craigslist continues to be a vibrant platform for connecting individuals and communities across the United States. With active cities, a diverse range of categories, and fluctuating activity throughout the day, Craigslist offers a wealth of opportunities for buying, selling, finding services, and engaging with local events. Whether you're looking for a job, a new home, or simply exploring your community, Craigslist is a valuable resource for all your needs.